Beedie - The Beat Bully LP (street album): (June 30, 2011)
Beedie has been working to create a buzz in his own lane over the last few years and is now poised to be one of the next stars to rise out of Pittsburgh. The Beat Bully LP is Beedie's first official street album. Featuring 12 tracks all original productions plus 4 bonus tracks, it has been in the works for over a year. The process of crafting the album involved instrumentation from Beedie himself on keys and other musicians on guitar and drums. This Hip-Hop masterpiece is eager to push down the boundaries of the usual formula and is only a glimpse into the musical mind of Beedie. Later this year Beedie and Jon Quest will be bringing you the Varsity Squad album.
OneBeLo comes to Pittsburgh, stops by Time Bomb & hits the studio with Beedie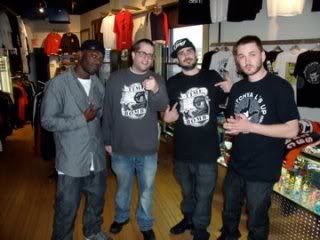 Legendary emcee OneBeLo (from the group Binary Star), hailing from Pontiac, Michigan, recently came into Pittsburgh to link with Beedie after meeting at events in Atlanta & Detroit. He stopped through Time Bomb & then recorded a song with Varsity Squad for their upcoming album.
Beedie was invited back up to Detroit on February 3rd to compete in an emcee competition sponsored by Trojan Magnum called the Bring It Back Tour as part of the "Trojan Live Large Project 2". Only 12 emcees from the midwest area were invited to compete. Located at the world famous Shelter featured in the film 8 Mile, the judges included Royce Da 5'9", Trick Trick, One Be Lo, DJ House Shoes, Opio (Heiroglyphics), and Guilty Simpson. Round 1 was to rap 16 bars accapella. Round 2 was to freestyle 16 bars over a random beat. Round 3 was to perform a song. Here are some stills of what went down over the evening. Shout to Chief.