New School Boom Bap is the name of the Varsity Squad album & it's coming February 7, 2012.

In Episode 9, Beedie & Jon Quest give us insider information about crafting the album and show us some fresh crewneck sweaters they are selling on their online store. Expect some special guests to show up. Also, we get a funny bit in the beginning about Peanut Butter & Jelly sandwiches, which has more than you might expect in common with the album's concept. 

@Beedie412
@JonQuest412
@VarsitySquadVS

Buy a "New School Boom Bap" Crewneck Sweater here: http://WhoisVS.storenvy.com
THIRD VIDEO FROM THE BEAT BULLY LP: (September 19th, 2011)
TreeJTV2 and Varsity Squad present…

Beedie
Cardiac Arrest & Beedie Sings The Blues
(off of The Beat Bully LP)
http://www.datpiff.com/Beedie-The-Beat-Bully-mixtape.246055.html

Shot & Edited by fPat of Glass Canon Films @SHOTandCUT

@Beedie412
@VarsitySquadVS
Directed by @SHOTandCUT

Cardiac Arrest beat by @Czientist
Beedie Sings The Blues beat by DJ Vex (@VexInPA)
OFFICIAL MUSIC VIDEO FROM PIFF JAR PRESENTED BY TREEJAY & MOST DOPE: (August 1, 2011)
TreeJTV2 & Varsity Squad Presents:
"Won't Do"
Starring Beedie & Treejay

Track 3 from Piff Jar

Download Beedie's "The Beat Bully" on Datpiff!

@Beedie412
@TreeJTV
@WillyWhips
@INTERVIEWQ

Directed by @SHOTandCUT of Glass Canon Films

(Instrumental courtesy of J. Dilla)

Beedie - The Beat Bully LP (street album): (June 30, 2011)
Beedie has been working to create a buzz in his own lane over the last few years and is now poised to be one of the next stars to rise out of Pittsburgh. The Beat Bully LP is Beedie's first official street album. Featuring 12 tracks all original productions plus 4 bonus tracks, it has been in the works for over a year. The process of crafting the album involved instrumentation from Beedie himself on keys and other musicians on guitar and drums. This Hip-Hop masterpiece is eager to push down the boundaries of the usual formula and is only a glimpse into the musical mind of Beedie. Later this year Beedie and Jon Quest will be bringing you the Varsity Squad album.
SECOND VIDEO FROM THE BEAT BULLY LP: (June 21, 2011)
Rex Arrow Films Presents…
Beedie
Featuring Gene Stovall
"Dolo"

Track produced by Buscrates 16-Bit Ensemble

Shot & Edited by Ian Wolfson
Rex Arrow Films 2011
Varsity Squad opening for Big Krit, Smoke DZA, Freddie Gribbs at Mr. Smalls in Pittsburgh
via timebombspot.blogspot.com:
Come join us on April 25th for the Big K.R.I.T. The Return Of 4Eva Tour at Mr Smalls! This show is going to be pretty fucking cool. Big K.R.I.T. is bringing Freddie Gibbs and Smoke DZA with him and they'll be joined by Pittsburgh's own Varsity Squad, Boaz, The 58s, and BZE, with DJ Shef on the wheels. The show starts at 8pm and it's all ages so come down to the store.. grab your tickets and we'll see you there!!
Tickets are also available online at http://www.ticketweb.com/t3/sale/SaleEventDetail?dispatch=loadSelectionData&eventId=3565555&REFERRAL_ID=tmfeed&crosssite=TM_US:1483813:337137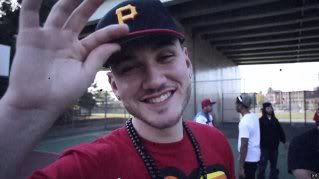 Visuals courtesy of Rex Arrow Films for Vinny Radio's "That Music", produced by Big Jerm. Cameos from Beedie, Franchise, P. Fish, and more.